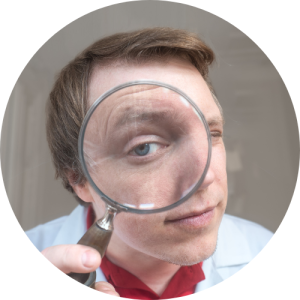 I'm Yannick, I love coaching
,

and I created a coaching lab where you get to witness highly experienced coaches live at work.
If you've ever seen a coach in action, you know what a massively valuable learning experience it is
If you've ever seen a coach in action, you know what a massively valuable learning experience it is
And that is why I created The Coaching Lab, where you get to be a fly on the wall during a 45-minute live coaching session, talk to the coach & client about their experience, and practise your own skills as part of an intimate and friendly community.
Over the years, The Coaching Lab has become a valuable asset in the lives of many coaches. Both beginners and seasoned practitioners alike tell us how much they love the opportunity to take a look inside the minds of other coaches. It's enlightening and revealing to hear coaches reflect on the 'what, why & how' of their coaching approach, and to see a range of different styles in action.
If you've ever felt that life can be lonely as a coach, or you want to learn new techniques, or try out a new modality or way of being before using them with paying clients, then The Coaching Lab was made for you.
If you feel The Coaching Lab is for you…
Why not join us, and find out for yourself?

There's options:
Whether you want to test the waters with a commitment-free monthly rolling membership, save 15% with an annual membership, or indeed get instant access to the entire vault of recorded coaching demos with a VIP membership:
We try to make it as easy and affordable as possible, for new and experienced coaches alike, to demystify coaching, expand your practice and level up your skillset.
In just a few clicks you can join a small, powerful community of coaches who are eager to learn together and support each other, all under the trusted facilitation of a veteran coach.
In short:
Direct access to a formidable learning environment!
How it works:
The mechanics of a Coaching Lab session:
Phase 1: A live coaching session
After a brief welcome and some contracting, we get to sit in on a live coaching session as an invisible audience member. 
What a privilege it is, to observe what's happening "in the fishbowl" – to be right there as the magic happens, and to bear witness to a fellow human being opening up and trying to figure some stuff out!
At times we venture into incredible depth and the client truly transforms; at other times it's more light and transactional; and occasionally it doesn't quite seem to gel – but whichever way things play out, we ALWAYS learn a huge deal!
Phase 2: An open conversation
After the fishbowl-session, both client and coach share their reflections on the session, followed by an open conversation fueled by curious and critical questions and observations from the audience and facilitator. 
That way we'll get to take a look inside the mind of an experienced coach, and learn more about how and why they made certain decisions. We'll also learn about their techniques; any underlying frameworks and psychological theory running in the background; as well as how their interventions landed with the client – and you get to share your own experience witnessing the session. 
Phase 3: Breakouts & practice
In the last part of the Lab, after a short break, everybody is invited into breakout triads, to practice and experiment with some new coaching techniques or ways of being.
Perhaps you were inspired by what was just observed and you want to try it for yourself, or maybe you simply want to blow the dust off some of your existing skills:
Practising in a safe environment enables us to incorporate new skills into our paid practice, and it's a chance to get some feedback on how we're doing, often from experienced fellow coaches – a formidable learning environment!
Walk away upgraded and connected​
Every month, Lab members tell us that they feel privileged and inspired, after observing these sessions and chatting with the coach, the client, and a diverse community.
And, being a Lab member means you'll open up new perspectives on what's possible in coaching: You'll have a fresh set of coaching skills and modalities in your toolkit, and you'll be connected to a thriving and supportive community. 
The result: You, as a better, more versatile, more confident and capable coach – ready to take on more challenging coaching conversations, and create more positive change in the world.
The Coaching Lab helps you, every month,
to be the best coach you can be.
Our Vault of recorded Coaching Lab sessions offers a well-spring of knowledge and experience. Check out a selection of favourites below and the complete Vault here. 
What our members are saying​
The Coaching Lab is a unique online space where you can watch coaches in action with clients presenting real issues. There is nowhere else that offers such a superb learning opportunity.
I am making my way through the vault of recordings, which is such an unbelievable resource - so inspiring and provocative and deeply educational for a newly trained coach like myself 🙏
It was a learning experience that will stay with me a long time.
What an incredibly valuable resource. Bringing what is normally such a rare (and exclusive) opportunity, reserved for the training rooms, making it available for anyone who is interested in being a fly on the wall for 45 minutes in someone else's coaching session. Magnificent!
The Coaching Lab was one of the most effective parts of my coach training.
Thank you Yannick for elevating the shared conversation about what effective coaching looks like, and also for providing an experience that hits a need that many coach training programmes don't.
The Coaching Lab is invaluable for learning and I'm loving all the videos in the Vault. It's refreshing and comforting to see that pro-coaches with all the experience make little mistakes now and then, that behind closed doors, they are human too and it reminds me that coaching is exciting and unpredictable, in a good way.
Thank you ever so much!
[On a scale of 1-10] it's an 11 from me 🙂
I recommend the Lab to people all the time!
Every month there is something new to learn and I have loved the variety of approaches you have curated. Like everything you do, it really elevates the shared conversation about what effective coaching looks like.
Ever wanted to know how other coaches actually coach? Or been curious about certain styles, schools, or methods? Yannick's Coaching Labs are brilliant. You get to watch highly-experienced coaches in action... and then ask them the burning questions you have about process or choice or questions.
I really love the Coaching Labs, they ought to be obligatory for all coaches!
Thank you for the deep learning today. I felt a sense of grounding and learned about delivering succinct depth in questions and reflections.
Professional coach, trainer, supervisor, published author, former MSc Programme Leader, and teaching faculty at Cambridge University & the International Centre for Coaching Supervision.
An avid fan of Positive Psychology and Existential Coaching, Yannick holds Masters Degrees in both domains.
His approach to coaching and life in general is inquisitive and rigorous, and his mission in the coaching space is clear: 
To improve & expand both the quality, and the adoption of coaching in the world. 
The Coaching Lab was created as a tool to help further that mission, and to give you tools and teachings that help you grow and be the best, most impactful coach you can be for your clients, their communities, and the world.